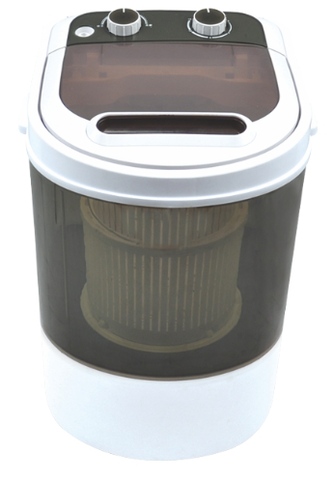 The mini washing machine for students, campers or money savers!
Are you looking for a compact washing machine to use in your student dorm, campside, one person household or tiny house? Or do you not want to spend hundreds of euro's on a regular washing machine? Check out the Young Mountain MW-240. The most powerful and cheapest mini washing machine available on the market!
Make doing laundry easier for just €49,95
For who?
For everybody who has to pay (too much) for the launderette at the campus, has small living space, goes camping or simply hasn't got a lot of laundry.
The mini washing machine washes up to 3 kg of dry laundry per turn, more than enough for a one person household or if you can wash on daily basis for the whole family.

De benefits compared to a regular washing machine are:
- uses less space
- cheaper to buy
- lesser water, power and detergent usage
- cheaper to maintain
- no special water drainage needed
- easy to store

And that for just € 49,95

Are there any downsides? Yes, it will take a few extra steps compared to a regular washing machine and your wash will take longer to dry. In return you will safe a lot money and gain privacy and space!




Why order with us?
We are 100% specialized in mini washing machines and did long and thorough research for the best solution, with the Young Mountain MW-240 as a result. We are a reliable webshop, comply to all laws and regulations and customer satifaction is our primary goal.

Our mini washing machine has the most powerful motor, a spin basket en most capacity from the, on the Dutch market available mini washing machines. For those reasons our washing machine is really suitable to do your laundry, and not just your socks and handkerchiefs.

Despite better specificiations we are able to offer our mini washing machine at a competitive price. This is possible because we purchase in high volumes, and keep our company costs low.
Our mini washing machines have been tested by the renowed laboratory Eurofins, is C E marked and we only use safe plastic (RoHS compliant).
With the Young Mountain MW-240 you won't buy a badly made imitation, but a mini washing machine that does what we promise!


How do I use it?
Very easy! Fill the mini washing machine with laundry, warm water, detergent, fabric softener (if you desire) and turn it on. You repeat this proces without detergent and fabric softerner and the your laundry is ready to spin (only for small/light clothing pieces) and hang to dry.

A manual and safety instructions in Dutch and English will be added with your mini washing machine, please read these carefully before using the machine.



Ready to safe some money?
The Young Mountain MW-240. Thé Mini Washing Machine for your student dorm, studio, tiny house or campside